Car Clubs
A car club is a group of people who share a common interest in motor vehicles. (The term is often applied to groups serving collectors of light trucks as well.)

Car clubs can vary widely in focus from one to another to suit the owners or enthusiasts, and some of them have a criteria to what an owner can own to be eligible for membership. Many are oriented around a specific type, make, model or even production run of vehicle. Others do not require physical ownership of a vehicle. Typically (and historically) car clubs have been non-profit groups run by a group of people (most often elected) who are referred to as committee members but larger clubs (e.g. the Ferrari Owners Club) may be large enough to be run as a paid business with salaried employees. Many enthusiasts are attracted to join car clubs because of the publications offered with memberships; these contain photographs, messages from other members, service and parts advice, items and vehicles wanted and/or for sale, and historical material of interest to the membership. Car clubs often host gatherings (called "meets") which often also welcome interested non-members and their vehicles. Car clubs also may engage in other activities of various types, including races, cruising, shows, "mod" days when garage equipment and service tools are available for members to perform and assist each other with DIY work, or community service activities.

However, a new development within car clubs has taken place since the dawn of the Internet: Web-based car clubs that by their nature charge no dues and provide instant messaging services, file storage, and photo-sharing. These simplified clubs archive image and message material instantly and electronically and therefore do not issue printed publications. Other differences separating Web-based car clubs from traditional car clubs include the lack of a treasury and elected-officer governing structures - which some consider an advantage in lessening the occurrences of political machinations that sometimes can erupt within volunteer organizations. Web-based car clubs seldom hold meets but may refer members to gather at an existing meet as a club function.

On the other hand, however, the Internet has also encouraged and fostered the development of many local clubs centered around specific vehicles, particularly more uncommon vehicles. The Internet has provided a cheap and convenient method for enthusiasts to find each other for meets, as well as parts, technical advice, events, and service for their vehicles.

In some countries, notably in Japan, some car clubs are run as a way of regulating street races and to race against people they know rather than complete against those they do not, therefore eliminating the possibility of an accident; the best known being the Mid Night Club. Also clubs are used to enter team drifting contests.
TRY OUR FAKE TURBO WHISTLER!
Make your car sound like it has turbo under the hood
Make your car sound like a turbo charger! Attach our turbo whistler to your muffler exhaust pipe and under heavy acceleration makes your car sound like a fake turbo charger.
The turbo whistler is an aluminum device which easily fits inside your car or trucks muffler exhaust pipe. Under heavy acceleration makes your car sound like it has a fake turbocharger. In some cars letting off the gas pedal releases backpressure in the muffler making the car sound like it has a small blow off valve. All your friends will think you have a turbocharger under your hood!
TURBO WHISTLER WORKS ON ALL CARS!
The best part about our turbo whistler is that it only takes seconds to attach. No welding or drilling needed. You can easily detach the exhaust whistler and hear the turbo sound on all your friend's cars!
The turbo whistler measures about 3" long and is made of lightweight aluminum.
"I love my Turbo Whistler! Perfect Honda Civic turbo sound. I also tried it on all my friend's cars!"
- Gary Matthews
"After revving my car with the Turbo Whistler, my friends were curious what I had under my hood!"
- Chris Peterson
"I drive a cheap Honda Accord, but the Turbo Whistler makes it sound like I have a supercharger now!"
- Sara Dudash
FAKE TURBO WHISTLER INSTALLS IN SECONDS!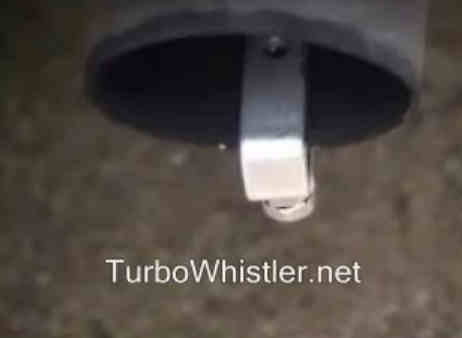 CLICK HERE FOR TURBO WHISTLER VIDEOS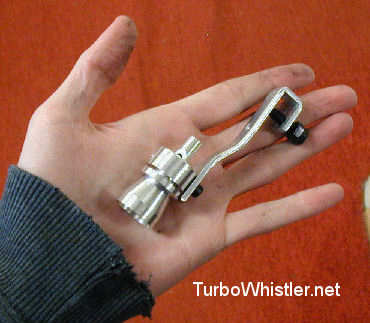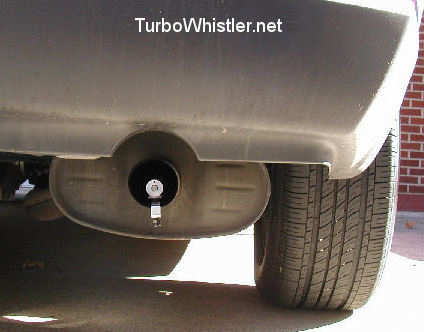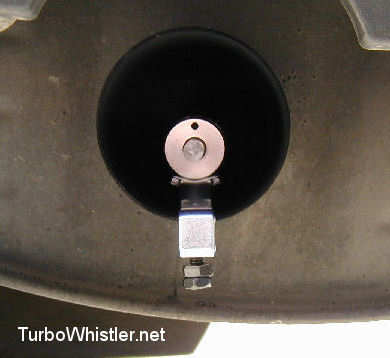 Fake Turbo Whistler installs in seconds! Turbo Whistle simply clamps to muffler exhaust pipe!
We also accept orders through PayPal below


All major credit cards and PayPal accepted
Your turbo whistler will be shipped same day ordered by USPS Mail with tracking number
Please allow around 3-5 days for delivery
Wholesale Orders - Link to Us - Video Contest - How to Install Turbo - Street Racing Videos - Drag Racing Videos - Sportbike Racing Videos - Drifting Videos - Burnout Videos - Car Makes Models - Car Clubs - Car Racing Videos - Auto Racing Videos - Formula 1 Racing Videos - Off Road Racing - Go Kart Racing - Car Crash Videos - NASCAR Racing - Muffler Exhaust Systems - How Turbo Works - Turbocharger Videos - Supercharger Videos - Exotic Cars - Dyno Videos - Demolition Derby - Indy Racing - Monster Trucks - Speedways - NASCAR Drivers - Concept Cars - Import Tuner Cars - Turbo Sound - How Turbochargers Work - How Superchargers Work - Car Shows - How Nitrous Oxide Works

Thanks for checking out our Car Clubs page