Demolition Derby Videos
Demolition derby is a motor-sport usually presented at county fairs and festivals. They originated in the United States and quickly spread to other western nations.

While rules vary from event to event, the typical demolition derby event consists of ten or more drivers competing by deliberately ramming their vehicles into one another. The last driver whose vehicle is still operational is awarded the victory.
A demolition derby can be very dangerous. Although serious injuries are rare, occasionally they do happen. To make the event safer, all glass is removed from the vehicle, and deliberately ramming the driver's-side door area is usually forbidden. The driver's door is often required to be painted white, with black numbers, or with contrasting colors, for visibility. A demolition derby is held on dirt tracks, or in open fields, that are usually soaked with water. This causes the competition area to become muddy, which in turn helps to further slow the vehicles. Some drivers use both the front, and rear, of the vehicle to ram the other competitors. Others tend to use only the rear end of the vehicle, to help protect the engine compartment from damage.

Competitors have traditionally used full-size, American made sedans, and station wagons, especially those from the 1960s and 70s, which were larger, heavier, and had more robust frames than later full-size vehicles. (The 1964-1966 Chrysler Imperial achieved near-legendary status for its crashworthiness, and is still banned from most derby events.) Vehicles are purchased from junkyards and private owners, usually for less than $500, though some select (and rust-free) mid-1970's sedans, and station wagons, may go for more than $1000. A vehicle may be patched up and re-used for several events.

With the dwindling availability of these older vehicles, smaller full-sized vehicles of the 1980s and 1990s are more frequently encountered today. A separate class of demolition derby for compact cars is increasing in popularity. Compact car events have the advantages of an abundant supply of usable vehicles, which also tend to be more mobile and thus, more entertaining to fans. Being largely front-wheel drive, their back ends can sustain considerable amounts of damage before the vehicle is immobilized. However, this increased speed, coupled with the fact that compact cars tend to be less crashworthy, makes injuries more frequent.

Bizarre versions of the sport using combine harvesters, and lawn mowers have been practiced in various parts of the world. Larger vehicles, such as pickup trucks and SUV's were rarely used in demolition derby (though school bus demolitions have long been a popular exception), but have recently become popular in demolition events. Recently a new class for minivans has been added to some derbies because of the abundance of older vehicles.

The vehicles are stripped of interior fixtures, trim, plastic, lights, and glass, and repainted, usually in loud, garish designs. Additional modifications include trimming sheet metal from around the wheel wells, removing parts of bumpers, welding the doors shut, and relocating the battery and gas tank. To make the cars last longer, they are occasionally pre-bent, frames notched, rear bumper removed, trunk lid notched, and rear coil springs are (when rules allow) replaced with leaf springs. In many instances, roll bars, fire extinguishers, and other safety equipment is installed.

The demolition derby was first held at various fairs and race tracks by independent promoters in the 1950s. There are unconfirmed reports of events occurring as far back as the 1930s utilizing the abundant supply of worn out Ford Model T's.

The demolition derby popularity grew throughout the 1960s, becoming a standard of county fairs in rural areas, and becoming a quirky subculture nationwide. ABC's Wide World of Sports, featured demolition derbies on several broadcasts in the 1970s. The popular ABC sitcom Happy Days included the character Pinky Tuscadero, a professional demolition derby driver and occasional love interest to the show's most popular character, Arthur Fonzarelli. The demolition derby is found by many to be very amusing.

By the 1980s, the demolition derby popularity began to level off, and then possibly decline throughout the 1990s. With the demise of Wide World of Sports, television exposure became virtually non-existent. In addition to safety concerns and the shortage of full-size vehicles, some felt that the sport has shown little change or innovation beyond its original premise of giant lumbering cars sloshing through mud.

In 1997, The Nashville Network (later part of CBS) returned demolition derby to national television in its "TNN's Motor Madness" series of various motor-sport events. However, as part of MTV Networks' takeover of CBS Cable operations in 2000, the demolition derby, as well as the rest of the CBS motor-sports operations, were removed from programming as part of MTV's move to shut down the CBS Charlotte operation based at Lowe's Motor Speedway and generalize the network into a more broadly viewed channel. Pay per view was demolition derby's only national television outlet in the new millennium. Two $50,000-to-win derbies were held in Widewater, Canada from 2000-2001.

Later in the 2000s, a proliferation of cable television shows about vehicle customizing occasionally showcased junked vehicles in bizarre competitions. Spike TV's "Carpocalypse" was a reality documentary series on variations of demolition derby filmed in Orlando, Florida. The Speed Channel also has aired Team demolition derbies in 2005. Cable TV's exposure has led to renewed interest in the demolition derby.
Make your car sound like a turbo charger! Attach our turbo whistler to your muffler exhaust pipe and under heavy acceleration makes your car sound like a fake turbo charger.
The turbo whistler is an aluminum device which easily fits inside your car or trucks muffler exhaust pipe. Under heavy acceleration makes your car sound like it has a fake turbocharger. In some cars letting off the gas pedal releases backpressure in the muffler making the car sound like it has a small blow off valve. All your friends will think you have a turbocharger under your hood!
TURBO WHISTLER WORKS ON ALL CARS!
The best part about our turbo whistler is that it only takes seconds to attach. No welding or drilling needed. You can easily detach the exhaust whistler and hear the turbo sound on all your friend's cars!
The turbo whistler measures about 3" long and is made of lightweight aluminum.
"I love my Turbo Whistler! Perfect Honda Civic turbo sound. I also tried it on all my friend's cars!"
- Gary Matthews
"After revving my car with the Turbo Whistler, my friends were curious what I had under my hood!"
- Chris Peterson
"I drive a cheap Honda Accord, but the Turbo Whistler makes it sound like I have a supercharger now!"
- Sara Dudash
FAKE TURBO WHISTLER INSTALLS IN SECONDS!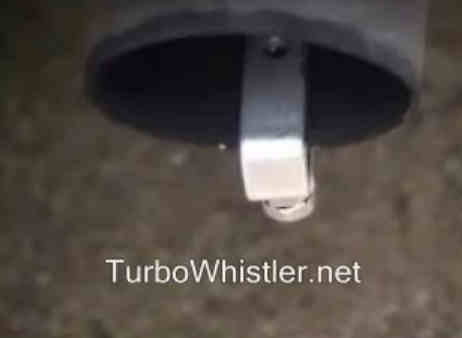 CLICK HERE FOR TURBO WHISTLER VIDEOS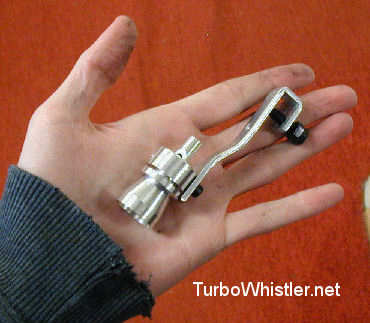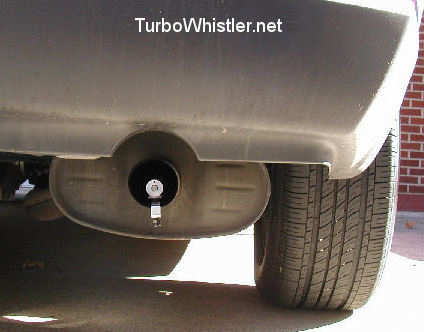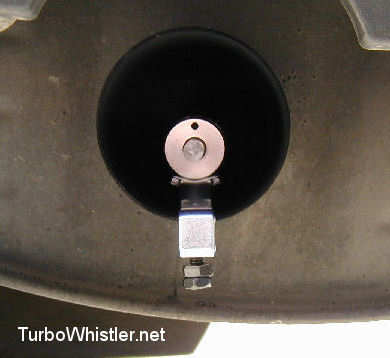 Fake Turbo Whistler installs in seconds! Turbo Whistle simply clamps to muffler exhaust pipe!
We also accept orders through PayPal below


All major credit cards and PayPal accepted
Your turbo whistler will be shipped same day ordered by USPS Mail with tracking number
Please allow around 3-5 days for delivery
Wholesale Orders - Link to Us - Video Contest - How to Install Turbo - Street Racing Videos - Drag Racing Videos - Sportbike Racing Videos - Drifting Videos - Burnout Videos - Car Makes Models - Car Clubs - Car Racing Videos - Auto Racing Videos - Formula 1 Racing Videos - Off Road Racing - Go Kart Racing - Car Crash Videos - NASCAR Racing - Muffler Exhaust Systems - How Turbo Works - Turbocharger Videos - Supercharger Videos - Exotic Cars - Dyno Videos - Demolition Derby - Indy Racing - Monster Trucks - Speedways - NASCAR Drivers - Concept Cars - Import Tuner Cars - Turbo Sound - How Turbochargers Work - How Superchargers Work - Car Shows - How Nitrous Oxide Works

Thank you for visiting our Demolition Derby videos page