Car Drifting Videos
Drifting refers to a driving technique and to a motor sport involving the use of the technique. This article deals primarily with the sport. A car is said to be drifting when the rear slip angle is greater than the front slip angle, and the front wheels are pointing in the opposite direction to the turn (e.g. car is turning left, wheels are pointed right), and the driver is controlling these factors.
Drifting Videos
History

For years drivers have intentionally used oversteer in motorsports such as dirt track racing, motorcycle speedway, and rallying. Early Grand Prix drivers such as Tazio Nuvolari also used an at-the-limit form of driving called the four-wheel drift. It has also featured prominently in stunt driving and other forms of exhibition.

Modern drifting started out as a racing technique popular in the All Japan Touring Car Championship races over 30 years ago. Motorcycling legend turned driver, Kunimitsu Takahashi, was the foremost creator of drifting techniques in the 1970s. He was famous for hitting the apex (the point where the car is closest to the inside of a turn) at high speed and then drifting through the corner, preserving a high exit speed. This earned him several championships and a legion of fans who enjoyed the spectacle of burning tires. The bias ply racing tires of the 1960s-1980s lent themselves to driving styles with a high slip angle. As professional racers in Japan drove this way, so did the street racers.

A street racer named Keiichi Tsuchiya became particularly interested by Takahashi's drift techniques. Tsuchiya began practicing his drifting skills on the mountain roads of Japan, and quickly gained a reputation amongst the racing crowd. In 1977, several popular car magazines and tuning garages agreed to produce a video of Tsuchiya's drifting skills. The video, known as Pluspy, became a hit and inspired many of the professional drifting drivers on the circuits today. In 1988, alongside Option magazine founder and chief editor Daijiro Inada, he would help to organize one of the first events specifically for drifting. He also drifted every turn in Tsukuba Circuit in Japan.

One of the earliest recorded drift events outside Japan was in 1996, held at Willow Springs raceway in California hosted by the Japanese drifting magazine and organisation Option. Inada, the NHRA Funny Car drag racer Kenji Okazaki and Dorikin, who also gave demonstrations in a Nissan 180SX that the magazine brought over from Japan, judged the event with Rhys Millen and Bryan Norris being two of the entrants. Drifting has since exploded into a massively popular form of motorsport in North America, Australia, and Europe. One of the first drifting competitions in Europe was hosted in 2002 by the OPT drift club at Turweston, run by a tuning business called Option Motorsport. The club held a championship called D1UK, then later became the Autoglym Drift Championship. For legal reasons, the business was forced to drop the Option and D1 name. The club has since been absorbed into the D1 franchise as a national series.
TRY OUR FAKE TURBO WHISTLER!
Make your car sound like it has turbo under the hood
Make your car sound like a turbo charger! Attach our turbo whistler to your muffler exhaust pipe and under heavy acceleration makes your car sound like a fake turbo charger.
The turbo whistler is an aluminum device which easily fits inside your car or trucks muffler exhaust pipe. Under heavy acceleration makes your car sound like it has a fake turbocharger. In some cars letting off the gas pedal releases backpressure in the muffler making the car sound like it has a small blow off valve. All your friends will think you have a turbocharger under your hood!
TURBO WHISTLER WORKS ON ALL CARS!
The best part about our turbo whistler is that it only takes seconds to attach. No welding or drilling needed. You can easily detach the exhaust whistler and hear the turbo sound on all your friend's cars!
The turbo whistler measures about 3" long and is made of lightweight aluminum.
"I love my Turbo Whistler! Perfect Honda Civic turbo sound. I also tried it on all my friend's cars!"
- Gary Matthews
"After revving my car with the Turbo Whistler, my friends were curious what I had under my hood!"
- Chris Peterson
"I drive a cheap Honda Accord, but the Turbo Whistler makes it sound like I have a supercharger now!"
- Sara Dudash
FAKE TURBO WHISTLER INSTALLS IN SECONDS!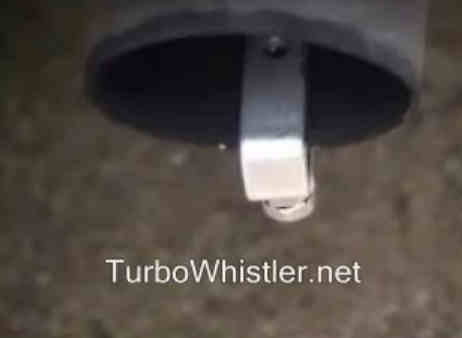 CLICK HERE FOR TURBO WHISTLER VIDEOS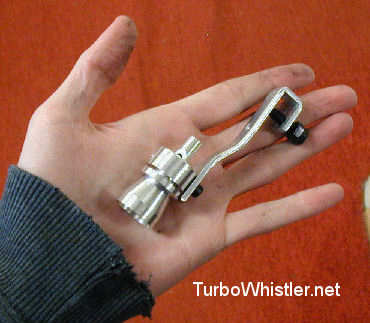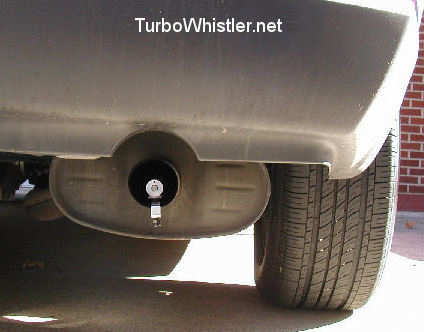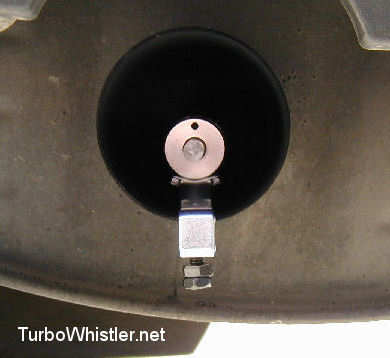 Fake Turbo Whistler installs in seconds! Turbo Whistle simply clamps to muffler exhaust pipe!
We also accept orders through PayPal below


All major credit cards and PayPal accepted
Your turbo whistler will be shipped same day ordered by USPS Mail with tracking number
Please allow around 3-5 days for delivery
Wholesale Orders - Link to Us - Video Contest - How to Install Turbo - Street Racing Videos - Drag Racing Videos - Sportbike Racing Videos - Drifting Videos - Burnout Videos - Car Makes Models - Car Clubs - Car Racing Videos - Auto Racing Videos - Formula 1 Racing Videos - Off Road Racing - Go Kart Racing - Car Crash Videos - NASCAR Racing - Muffler Exhaust Systems - How Turbo Works - Turbocharger Videos - Supercharger Videos - Exotic Cars - Dyno Videos - Demolition Derby - Indy Racing - Monster Trucks - Speedways - NASCAR Drivers - Concept Cars - Import Tuner Cars - Turbo Sound - How Turbochargers Work - How Superchargers Work - Car Shows - How Nitrous Oxide Works

Thanks for watching the Drifting videos