Dyno Videos Dynamometer
A dynamometer, "dyno" or "dyn'r" for short, is a machine used to measure torque and rotational speed (rpm) from which power produced by an engine, motor or other rotating prime mover can be calculated.

A dynamometer can also be used to determine the torque and power required to operate a driven machine such as a pump. In that case, a motoring or driving dynamometer is used. A dynamometer that is designed to be driven is called an absorption or passive Dynamometer. A dynamometer that can either drive or absorb is called a universal or active dynamometer.

In addition to being used to determine the torque or power characteristics of a machine under test (MUT), Dynamometers are employed in a number of other roles. In standard emissions testing cycles such as those defined by the US Environmental Protection Agency (US EPA), dynamometers are used to provide simulated road loading of either the engine (using an engine dynamometer) or full powertrain (using a chassis dynamometer). In fact, beyond simple power and torque measurements, dynamometers can be used as part of a testbed for a variety of engine development activities such as the calibration of engine management controllers, detailed investigations into combustion behavior and tribology.

In the medical realm, hand dynamometers are used for routine screening of grip strength and initial and ongoing evaluation of patients with hand trauma and dysfunction.
TRY OUR FAKE TURBO WHISTLER!
Make your car sound like it has turbo under the hood
Make your car sound like a turbo charger! Attach our turbo whistler to your muffler exhaust pipe and under heavy acceleration makes your car sound like a fake turbo charger.
The turbo whistler is an aluminum device which easily fits inside your car or trucks muffler exhaust pipe. Under heavy acceleration makes your car sound like it has a fake turbocharger. In some cars letting off the gas pedal releases backpressure in the muffler making the car sound like it has a small blow off valve. All your friends will think you have a turbocharger under your hood!
TURBO WHISTLER WORKS ON ALL CARS!
The best part about our turbo whistler is that it only takes seconds to attach. No welding or drilling needed. You can easily detach the exhaust whistler and hear the turbo sound on all your friend's cars!
The turbo whistler measures about 3" long and is made of lightweight aluminum.
"I love my Turbo Whistler! Perfect Honda Civic turbo sound. I also tried it on all my friend's cars!"
- Gary Matthews
"After revving my car with the Turbo Whistler, my friends were curious what I had under my hood!"
- Chris Peterson
"I drive a cheap Honda Accord, but the Turbo Whistler makes it sound like I have a supercharger now!"
- Sara Dudash
FAKE TURBO WHISTLER INSTALLS IN SECONDS!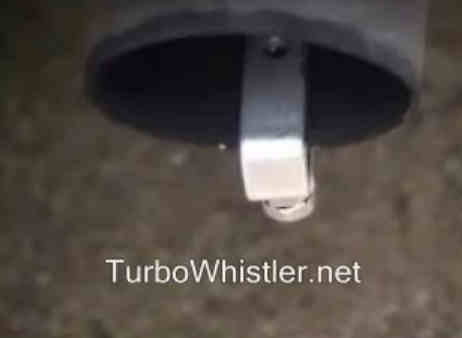 CLICK HERE FOR TURBO WHISTLER VIDEOS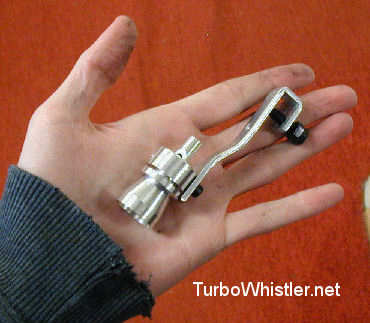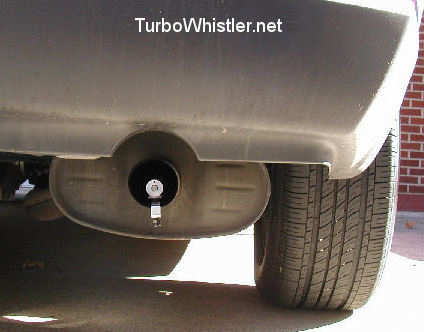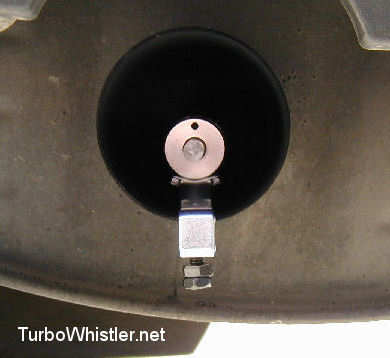 Fake Turbo Whistler installs in seconds! Turbo Whistle simply clamps to muffler exhaust pipe!
We also accept orders through PayPal below


All major credit cards and PayPal accepted
Your turbo whistler will be shipped same day ordered by USPS Mail with tracking number
Please allow around 3-5 days for delivery
Wholesale Orders - Link to Us - Video Contest - How to Install Turbo - Street Racing Videos - Drag Racing Videos - Sportbike Racing Videos - Drifting Videos - Burnout Videos - Car Makes Models - Car Clubs - Car Racing Videos - Auto Racing Videos - Formula 1 Racing Videos - Off Road Racing - Go Kart Racing - Car Crash Videos - NASCAR Racing - Muffler Exhaust Systems - How Turbo Works - Turbocharger Videos - Supercharger Videos - Exotic Cars - Dyno Videos - Demolition Derby - Indy Racing - Monster Trucks - Speedways - NASCAR Drivers - Concept Cars - Import Tuner Cars - Turbo Sound - How Turbochargers Work - How Superchargers Work - Car Shows - How Nitrous Oxide Works

Thanks for visiting the Dyno videos page