Monster Truck Videos
A monster truck is an automobile, typically a pickup truck, which has been modified or purposely built with extremely large wheels and suspension. They are used for popular entertainment and in some cases they are featured alongside Motocross races, mud bogging, tractor pulls and car-eating robots.

Typically, a monster truck show involves the truck crushing smaller vehicles beneath its huge tires. These trucks can run up and over most man-made barriers, so they are equipped with remote shut-off switches, called the Remote Ignition Interuptor (RII), to help prevent an accident if the driver loses control at any time. At some events, only one truck is on the course at a time, while most feature two drivers racing each other on symmetrical tracks, with the losing driver eliminated in single-elimination tournament fashion.

In recent years, many monster truck competitions have ended with a "freestyle" event. Somewhat akin to figure skating with giant trucks, drivers are free to select their own course around the track and its obstacles. Drivers will often try a 'Donut', also called a Cyclone, which involves spinning the truck in a high speed circle, and maybe even deliberately rolling the truck over. Additional items for the drivers to crush - usually including a motor home - are frequently placed on the track specifically for the freestyle event.
Monster Truck Videos
History

In the late 1970s, modified pickup trucks were becoming popular and the sports of mud bogging and truck pulling were gaining in popularity. Several truck owners had created lifted trucks to compete in such events, and soon competition to hold the title of "biggest truck" developed. The trucks which garnered the most national attention were Jeff and Steve Dane's Awesome Kong, Bob Chandler's Bigfoot, and Fred Shafer and Jack Willman Sr.'s Bear Foot. At the time, the largest tires the trucks were running were 48 inches in diameter.

Sometime in the late 1970s, the Dane brothers and Scott Wilson began using Awesome Kong to drive over automobiles at county fairs, making Awesome Kong officially the first truck to crush cars in front of an audience. Unaware of this, Chandler drove Bigfoot over a pair of cars in a field as a test of the truck's ability, and filmed it to use as a promotional tool in his four wheel drive performance shop. An event promoter saw the video of the car crush and asked Chandler to do it in front of a crowd. Initially hesitant, Chandler eventually caved in. After some smaller shows, Chandler performed the feat in the Pontiac Silverdome in 1982. At this show, Chandler also debuted a new version of Bigfoot with 66 inch diameter tires. The event was a major success and launched Bigfoot as the first true "monster truck", under the current definition. The term "monster truck" was also coined at this time, reportedly by United States Hot Rod Association founder Bob George.

Both Awesome Kong and Bear Foot followed Bigfoot to 66 inch diameter tires, and soon other monster trucks, such as King Krunch, USA-1, and Virginia Giant were being constructed. These early trucks were built off of stock chassis which were heavily reinforced, used leaf spring suspension, a stock body, and heavy military axles to support the tires. As a result, the trucks were incredibly heavy (usually 13,000 to 20,000 lb.) and most times had to crawl up onto the cars.

For most of the early 1980s, monster trucks performed primarily exhibitions as a side show to truck pulling or mud bogging events. In 1985, major promoters, such as the USHRA and TNT Motorsports, began racing monster trucks on a regular basis. The races, as they are today, were in the form of single elimination drag races, held over a course littered with obstacles. The change to racing eventually led truck owners to begin building lighter trucks, with more power. The establishment of TNT's first-ever monster truck points championship in 1988 expedited the process and found teams beginning to use straight-rail frames, fiberglass bodies, and lighter axle components to shave weight and gain speed.

In 1988, to standardize rules for truck construction, teams formed the Monster Truck Racing Association (MTRA). The MTRA created standards for several performance and safety features. The organization still plays a major role in the sport's development to this day.

With racing taking precedence, several teams began to think in new ways as to how the trucks could be built. In 1988, Jack Willman Sr., now with his own truck, Taurus, built a new truck which used a four-link suspension system and large coil springs, and that weighed in at close to 9,000 lb. The following year, another coil sprung truck, Equalizer debuted. The ultimate coup de grāce, however, came from Chandler, whose Bigfoot VIII featured a Baja 1000 inspired full tubular chassis and a long-travel suspension using nitrogen compression shock absorbers to cushion the landings. The truck revolutionized how monster trucks were built, and within a few years most top level teams built similar vehicles.

In 1991, TNT was purchased by USHRA and their points series were merged. The Special Events championship began to grow in popularity with teams as it had open qualifying spots which the invite-only USHRA championship did not have. The Special Events series lost its Pendaliner sponsorship in 1996, but the series is still running. The short-lived ProMT series started in 2000.

Although racing was dominant as a competition, USHRA events began having freestyle exhibitions as early as 1993. These exhibitions were developed as drivers, notably Dennis Anderson of the extremely popular Grave Digger, began asking for time to come out and perform if they lost in early rounds of racing. Promoters began to notice the popularity of freestyle among fans, and in 2000 USHRA began holding freestyle as a judged competition at events, and now even awards a freestyle championship.
Make your car sound like a turbo charger! Attach our turbo whistler to your muffler exhaust pipe and under heavy acceleration makes your car sound like a fake turbo charger.
The turbo whistler is an aluminum device which easily fits inside your car or trucks muffler exhaust pipe. Under heavy acceleration makes your car sound like it has a fake turbocharger. In some cars letting off the gas pedal releases backpressure in the muffler making the car sound like it has a small blow off valve. All your friends will think you have a turbocharger under your hood!
TURBO WHISTLER WORKS ON ALL CARS!
The best part about our turbo whistler is that it only takes seconds to attach. No welding or drilling needed. You can easily detach the exhaust whistler and hear the turbo sound on all your friend's cars!
The turbo whistler measures about 3" long and is made of lightweight aluminum.
"I love my Turbo Whistler! Perfect Honda Civic turbo sound. I also tried it on all my friend's cars!"
- Gary Matthews
"After revving my car with the Turbo Whistler, my friends were curious what I had under my hood!"
- Chris Peterson
"I drive a cheap Honda Accord, but the Turbo Whistler makes it sound like I have a supercharger now!"
- Sara Dudash
FAKE TURBO WHISTLER INSTALLS IN SECONDS!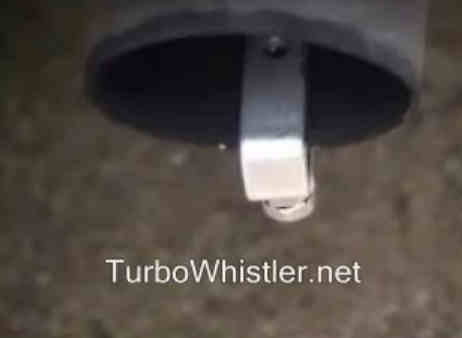 CLICK HERE FOR TURBO WHISTLER VIDEOS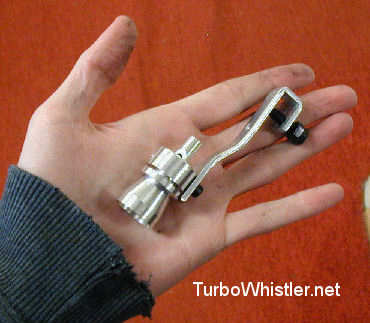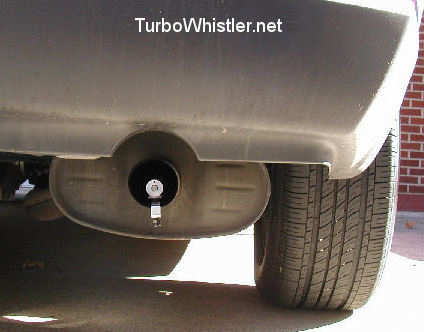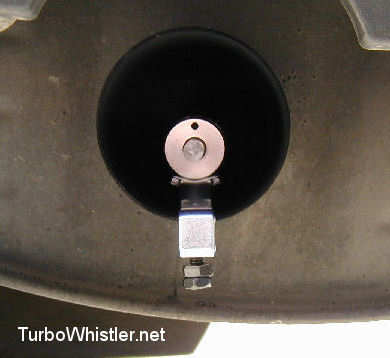 Fake Turbo Whistler installs in seconds! Turbo Whistle simply clamps to muffler exhaust pipe!
We also accept orders through PayPal below


All major credit cards and PayPal accepted
Your turbo whistler will be shipped same day ordered by USPS Mail
Please allow around 3-5 days for delivery
Wholesale Orders - Link to Us - Video Contest - How to Install Turbo - Street Racing Videos - Drag Racing Videos - Sportbike Racing Videos - Drifting Videos - Burnout Videos - Car Makes Models - Car Clubs - Car Racing Videos - Auto Racing Videos - Formula 1 Racing Videos - Off Road Racing - Go Kart Racing - Car Crash Videos - NASCAR Racing - Muffler Exhaust Systems - How Turbo Works - Turbocharger Videos - Supercharger Videos - Exotic Cars - Dyno Videos - Demolition Derby - Indy Racing - Monster Trucks - Speedways - NASCAR Drivers - Concept Cars - Import Tuner Cars - Turbo Sound - How Turbochargers Work - How Superchargers Work - Car Shows - How Nitrous Oxide Works

Thanks for watching the monster truck videos