How Does a Supercharger Work on a Car?
Since the invention of the internal combustion engine, automotive engineers, speed junkies and racecar designers have been searching for ways to boost its power. One way to add power is to build a bigger engine. But bigger engines, which weigh more and cost more to build and maintain, are not always better.

Another way to add power is to make a normal-sized engine more efficient. You can accomplish this by forcing more air into the combustion chamber. More air means more fuel can be added, and more fuel means a bigger explosion and greater horsepower. Adding a supercharger is a great way to achieve forced air induction. In this article, we'll explain what superchargers are, how they work and how they compare to turbochargers.

Superchargers and Turbochargers
A supercharger is any device that pressurizes the air intake to above atmospheric pressure. Both superchargers and turbochargers do this. In fact, the term "turbocharger" is a shortened version of "turbo-supercharger," its official name.

The difference between the two devices is their source of energy. Turbochargers are powered by the mass-flow of exhaust gases driving a turbine. Superchargers are powered mechanically by belt- or chain-drive from the engine's crankshaft.

In the next section, we'll look at how a supercharger does its job.

Supercharger Basics
An ordinary four-stroke engine dedicates one stroke to the process of air intake. There are three steps in this process:

1. The piston moves down.
2. This creates a vacuum.
3. Air at atmospheric pressure is sucked into the combustion chamber.

Once air is drawn into the engine, it must be combined with fuel to form the charge -- a packet of potential energy that can be turned into useful kinetic energy through a chemical reaction known as combustion. The spark plug initiates this chemical reaction by igniting the charge. As the fuel undergoes oxidation, a great deal of energy is released. The force of this explosion, concentrated above the cylinder head, drives the piston down and creates a reciprocating motion that is eventually transferred to the wheels.

Getting more fuel into the charge would make for a more powerful explosion. But you can't simply pump more fuel into the engine because an exact amount of oxygen is required to burn a given amount of fuel. This chemically correct mixture -- 14 parts air to one part fuel -- is essential for an engine to operate efficiently. The bottom line: To put in more fuel, you have to put in more air.

That's the job of the supercharger. Superchargers increase intake by compressing air above atmospheric pressure, without creating a vacuum. This forces more air into the engine, providing a "boost." With the additional air in the boost, more fuel can be added to the charge, and the power of the engine is increased. Supercharging adds an average of 46 percent more horsepower and 31 percent more torque. In high-altitude situations, where engine performance deteriorates because the air has low density and pressure, a supercharger delivers higher-pressure air to the engine so it can operate optimally.

Unlike turbochargers, which use the exhaust gases created by combustion to power the compressor, superchargers draw their power directly from the crankshaft. Most are driven by an accessory belt, which wraps around a pulley that is connected to a drive gear. The drive gear, in turn, rotates the compressor gear. The rotor of the compressor can come in various designs, but its job is to draw air in, squeeze the air into a smaller space and discharge it into the intake manifold.

To pressurize the air, a supercharger must spin rapidly -- more rapidly than the engine itself. Making the drive gear larger than the compressor gear causes the compressor to spin faster. Superchargers can spin at speeds as high as 50,000 to 65,000 rotations per minute (RPM).

A compressor spinning at 50,000 RPM translates to a boost of about six to nine pounds per square inch (psi). That's six to nine additional psi over the atmospheric pressure at a particular elevation. Atmospheric pressure at sea level is 14.7 psi, so a typical boost from a supercharger places about 50 percent more air into the engine.

As the air is compressed, it gets hotter, which means that it loses its density and can not expand as much during the explosion. This means that it can't create as much power when it's ignited by the spark plug. For a supercharger to work at peak efficiency, the compressed air exiting the discharge unit must be cooled before it enters the intake manifold. The intercooler is responsible for this cooling process. Intercoolers come in two basic designs: air-to-air intercoolers and air-to-water intercoolers. Both work just like a radiator, with cooler air or water sent through a system of pipes or tubes. As the hot air exiting the supercharger encounters the cooler pipes, it also cools down. The reduction in air temperature increases the density of the air, which makes for a denser charge entering the combustion chamber.
TRY OUR FAKE TURBO WHISTLER!
Make your car sound like it has a supercharger under the hood
Make your car sound like a turbo charger! Attach our turbo whistler to your muffler exhaust pipe and under heavy acceleration makes your car sound like a fake turbo charger.
The turbo whistler is an aluminum device which easily fits inside your car or trucks muffler exhaust pipe. Under heavy acceleration makes your car sound like it has a fake turbocharger. In some cars letting off the gas pedal releases backpressure in the muffler making the car sound like it has a small blow off valve. All your friends will think you have a turbocharger under your hood!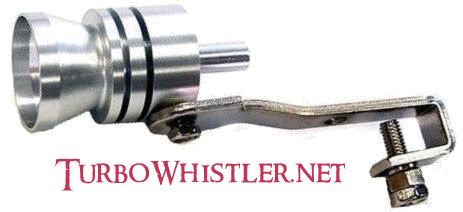 TURBO WHISTLER WORKS ON ALL CARS!
The best part about our turbo whistler is that it only takes seconds to attach. No welding or drilling needed. You can easily detach the exhaust whistler and hear the turbo sound on all your friend's cars!
The turbo whistler measures about 3" long and is made of lightweight aluminum.
"I love my Turbo Whistler! Perfect Honda Civic turbo sound. I also tried it on all my friend's cars!"
- Gary Matthews
"After revving my car with the Turbo Whistler, my friends were curious what I had under my hood!"
- Chris Peterson
"I drive a cheap Honda Accord, but the Turbo Whistler makes it sound like I have a supercharger now!"
- Sara Dudash
FAKE TURBO WHISTLER INSTALLS IN SECONDS!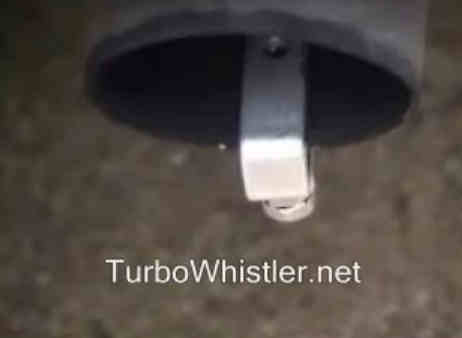 CLICK HERE FOR TURBO WHISTLER VIDEOS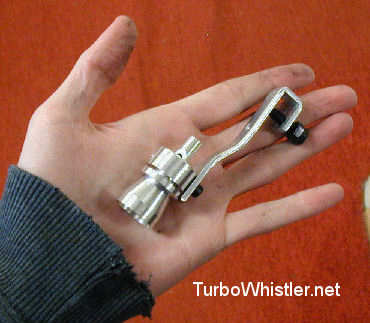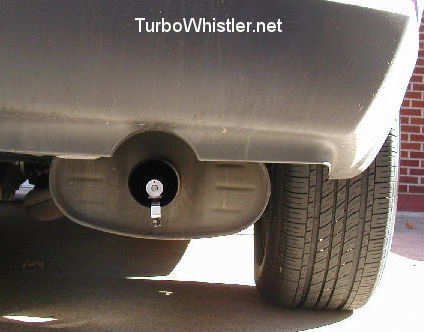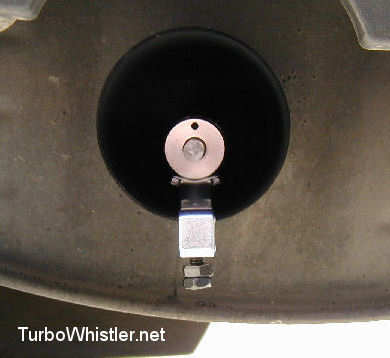 Fake Turbo Whistler installs in seconds! Turbo Whistle simply clamps to muffler exhaust pipe!
We also accept orders through PayPal below


All major credit cards and PayPal accepted
Your turbo whistler will be shipped same day ordered by USPS Mail with tracking number
Please allow around 3-5 days for delivery
Wholesale Orders - Link to Us - Video Contest - How to Install Turbo - Street Racing Videos - Drag Racing Videos - Sportbike Racing Videos - Drifting Videos - Burnout Videos - Car Makes Models - Car Clubs - Car Racing Videos - Auto Racing Videos - Formula 1 Racing Videos - Off Road Racing - Go Kart Racing - Car Crash Videos - NASCAR Racing - Muffler Exhaust Systems - How Turbo Works - Turbocharger Videos - Supercharger Videos - Exotic Cars - Dyno Videos - Demolition Derby - Indy Racing - Monster Trucks - Speedways - NASCAR Drivers - Concept Cars - Import Tuner Cars - Turbo Sound - How Turbochargers Work - How Superchargers Work - Car Shows - How Nitrous Oxide Works




Now you know how a supercharger works on a car