Import Tuner Racing Cars
The Import scene or Import racing scene refers to the subculture that revolves around modifying imported brand cars (commonly referred to as imports), especially those of Japanese brands, for street racing in foreign countries. Thanks to movies like The Fast and the Furious (2001), it has become a mainstream phenomenon among American youth of all backgrounds.

History

Car modifying has been very popular among youth in the United States, especially in Southern California, since the days of hot rods in the 1950s and 1960s. There is significant evidence indicating that import drag racing first started in Southern California in the mid-1960s, with Volkswagen Beetles, including documentation of quarter-mile passes published in Hot Rod Magazine as early as August of 1965. The island of Puerto Rico also has a long history of pioneering import drag racing in the mid 1970s and 1980s, and it is still a huge sport on the island. In the late 1980s and early 1990s, front wheel drive vehicles, at first Datsuns and later mostly Hondas, gained popularity in Southern California. Young Asian American street racers played a particularly important role in the development of the early street racing scene. Many enthusiasts in southern California also began to modify their compact Japanese cars, following similar trends that originated in Japan. Arising from the street culture, import racing venues eventually arose and huge drag racing events at Palmdale, California often packed in over 10,000 spectators per day. Racers like Stephen Papadakis, Ed Bergenholtz, and Myles Bautista dominated the first import drag racing circuit IDRA (Battle of the Imports) in the mid 1990s. Show car clubs became a huge factor within the import scene: Southern California had Team Kosoku, Northern California had Z.Team Yossi, while the east coast had the Jade Crew (still active to this day). This Japanese racing scene can be seen in the anime series Initial D, which focuses mainly on mountain pass racing and Wangan Midnight which deals with high-speed expressway racing.
Make your car sound like a turbo charger! Attach our turbo whistler to your muffler exhaust pipe and under heavy acceleration makes your car sound like a fake turbo charger.
The turbo whistler is an aluminum device which easily fits inside your car or trucks muffler exhaust pipe. Under heavy acceleration makes your car sound like it has a fake turbocharger. In some cars letting off the gas pedal releases backpressure in the muffler making the car sound like it has a small blow off valve. All your friends will think you have a turbocharger under your hood!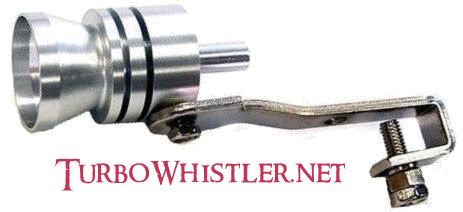 TURBO WHISTLER WORKS ON ALL CARS!
The best part about our turbo whistler is that it only takes seconds to attach. No welding or drilling needed. You can easily detach the exhaust whistler and hear the turbo sound on all your friend's cars!
The turbo whistler measures about 3" long and is made of lightweight aluminum.
"I love my Turbo Whistler! Perfect Honda Civic turbo sound. I also tried it on all my friend's cars!"
- Gary Matthews
"After revving my car with the Turbo Whistler, my friends were curious what I had under my hood!"
- Chris Peterson
"I drive a cheap Honda Accord, but the Turbo Whistler makes it sound like I have a supercharger now!"
- Sara Dudash
FAKE TURBO WHISTLER INSTALLS IN SECONDS!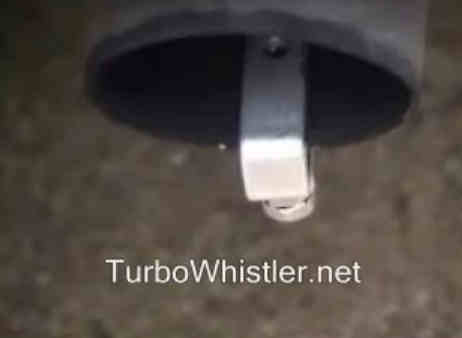 CLICK HERE FOR TURBO WHISTLER VIDEOS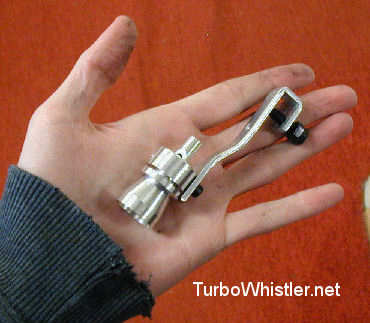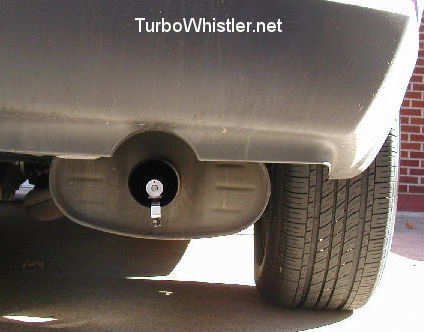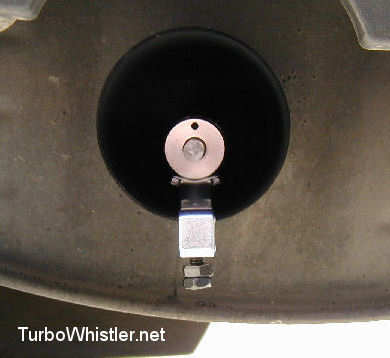 Fake Turbo Whistler installs in seconds! Turbo Whistle simply clamps to muffler exhaust pipe!
We also accept orders through PayPal below


All major credit cards and PayPal accepted
Your turbo whistler will be shipped same day ordered by USPS Mail with tracking number
Please allow around 3-5 days for delivery
Wholesale Orders - Link to Us - Video Contest - How to Install Turbo - Street Racing Videos - Drag Racing Videos - Sportbike Racing Videos - Drifting Videos - Burnout Videos - Car Makes Models - Car Clubs - Car Racing Videos - Auto Racing Videos - Formula 1 Racing Videos - Off Road Racing - Go Kart Racing - Car Crash Videos - NASCAR Racing - Muffler Exhaust Systems - How Turbo Works - Turbocharger Videos - Supercharger Videos - Exotic Cars - Dyno Videos - Demolition Derby - Indy Racing - Monster Trucks - Speedways - NASCAR Drivers - Concept Cars - Import Tuner Cars - Turbo Sound - How Turbochargers Work - How Superchargers Work - Car Shows - How Nitrous Oxide Works




Your Turbo Whistler ships same day ordered by USPS Mail