Sportbike Street Bike Sport Bike Superbike Videos
With the emphasis of a sport bike being on speed, acceleration, deceleration, and maneuverability, there are certain design elements that most motorcycles of this type will share. Sport bikes have comparatively high performance engines resting inside a lightweight frame. The combination of these help maintain structural integrity and chassis rigidity. Braking systems combine higher performance brake pads and multi-piston calipers that clamp onto oversized vented rotors. Suspension systems are advanced in terms of adjustments and materials for increased stability and durability. Front and rear tires are larger and wider than tires found on other types of motorcycles to accommodate higher cornering speeds and greater lean angles. Fairings may or may not be found on a sport bike. When used, the fairings are shaped to reduce aerodynamic drag as much as possible and less as wind protection for the rider. The performance of some stock sport bikes is so great they can be used on a race track right off the showroom floor. It is commonly said of these motorcycles that you can race them on Sunday and ride them to work on Monday.

These overall design traits mean sport bikes are generally less practical for street use when compared to most other types of motorcycles. There is little in the way of extra features or creature comforts like those present on touring motorcycles such as center stands, provisions for saddle bags, large windshields, or fairings providing protection from rain. Rider position and ergonomics are compromised in favor of weight distribution and aerodynamics. This generally means higher foot pegs that move the legs closer to the body and more of a reach to a lower set of hand controls which positions the body and weight forward and over the tank.

The term crotch rocket is slang for some types of sport bikes, mainly super sport and super bikes. The name is derived from the way the rider sits on the bike and from the speed and acceleration or which these bikes are capable. A sport bike's foot pegs and shifter are located farther back than a conventional or 'cruiser' motorcycles; this puts the rider in a position that is more streamlined and aerodynamic and places the rider's crotch in very close contact with the seat.
Sportbike Racing Videos
Classes

Although not officially recognized by any major motorcycle organization, the different variations of the sport bike can generally be grouped into several different classes, each containing unique features to that class.

Entry-level

Entry-level sport bikes are motorcycles that are meant to introduce motorcyclists to the sport bike design. They are relatively inexpensive, lightweight, and durable. There are minimal to no fairings installed to cut down on cost and maintenance if the motorcycle were to be dropped. Although capable of more power, the engines are usually detuned for longevity and durability. Entry level sport bikes can usually accommodate riders of all heights and weights.

Examples include the Suzuki GS500 and Kawasaki Ninja 500R/250R.

Small capacity

Small capacity sport bikes are typically of engine sizes ranging from 125 cc (7.6 cu in) to 400 cc (24.4 cu in), but are also produced in as little as 50 cc (3.1 cu in) (sometimes designed/tuned for persons carrying a restricted/learner's license). Small capacity sport bikes are available in both 2-stroke and 4-stroke cycles. Not as commonly produced now are 2-stroke sports bikes, largely restricted in production due to tight emission laws and agreements. Generally small in size, they can suit the shorter rider and the usual light weight means that although they output less power than larger sports bikes. Short wheelbase and lack of weight means handling characteristics are often on par with that of the typical high-capacity sport bike.

Examples include the Aprilia RS250 and Honda CBR125.

Super sport

Super sport bikes (also known as middleweight sport bikes) are sharply focused for optimal performance on a race track. They are generally built around a high revving, small displacement powerplant that is usually sized around 600 cc (36.6 cu in) to 800 cc (48.8 cu in). Most super sport bikes will carry a wet weight between 375 lb (170 kg) to 450 lb (204 kg) and produce 100 hp (75 kW). Because of how strongly focused super sport bikes are on race track performance, riders with heights of 5 ft 2 in and below will generally find trouble being able to flatfoot (the placement of both feet completely flat on the ground while sitting on a motorcycle) these types of sport bikes. In turn, taller riders and heavier riders may find the rider ergonomics in the default position to be cramped and uncomfortable.

Examples include the Honda CBR600RR, Kawasaki ZX-6R, and Triumph Daytona 675.

Superbike

The term Superbike is a word that is trademarked solely by Ducati Motor Holding, but due to the popularity of the motorcycles in this segment, the super bike term has been generally adopted to describe all bike (regardless of manufacturer) in this classification. Super bikes are large displacement super sport bikes. They have the exact same characteristics as the smaller super sport bikes which are mainly focused on race track performance, but are powered by larger engines that are usually sized around 800 cc (48.8 cu in) to 1100 cc (67.1 cu in). A typical super bike will carry a wet weight between 400 lb (181 kg) to 480 lb (218 kg) and can produce 170 hp (127 kW). Super bikes with a displacement very close to 1000 cc (61 cu in) are sometimes referred to as liter bikes as the engine displaces approximately one liter.

Examples include the Ducati 1098, Honda CBR1000RR, and Yamaha YZF-R1.

Hyper sport

Hyper sport bikes are very large displacement sport bikes with a strong emphasis on top speed and acceleration. They typically are powered by motors displacing 1100 cc (67.1 cu in) to 1400 cc (85.4 cu in). Hyper sport bikes are bigger and heavier than super bikes with wet weights generally being close to 500 lb (227 kg). The increased weight compromises race track capabilities in favor of stability at very high speeds that can exceed 180 mph (290 km/h). This compromise also allows manufacturers to design slightly more comfortable rider ergonomics.

Examples include the Honda CBR1100XX, Kawasaki Ninja ZX-14, BMW K1200R and Suzuki Hayabusa.

Sport touring

Sport touring bikes are designed with a longer distance riding emphasis. They typically feature more creature comforts than that of the average sport bike. Sport touring bikes are typically heavier, less powerful, and less performance oriented than super sport bikes, but have the added capabilities of storage, more comfortable rider ergonomics, and better practicality. Depending on the amount of emphasis on these touring capabilities, sport touring bikes can range from super sport bikes with more comfortable rider ergonomics to full-featured touring motorcycles with sport bike-like capabilities and features.

Examples include the Honda VFR800, Triumph Sprint ST, and Yamaha FJR1300.
Make your car sound like a turbo charger! Attach our turbo whistler to your muffler exhaust pipe and under heavy acceleration makes your car sound like a fake turbo charger.
The turbo whistler is an aluminum device which easily fits inside your car or trucks muffler exhaust pipe. Under heavy acceleration makes your car sound like it has a fake turbocharger. In some cars letting off the gas pedal releases backpressure in the muffler making the car sound like it has a small blow off valve. All your friends will think you have a turbocharger under your hood!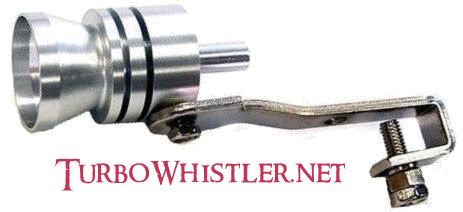 TURBO WHISTLER WORKS ON ALL CARS!
The best part about our turbo whistler is that it only takes seconds to attach. No welding or drilling needed. You can easily detach the exhaust whistler and hear the turbo sound on all your friend's cars!
The turbo whistler measures about 3" long and is made of lightweight aluminum.
"I love my Turbo Whistler! Perfect Honda Civic turbo sound. I also tried it on all my friend's cars!"
- Gary Matthews
"After revving my car with the Turbo Whistler, my friends were curious what I had under my hood!"
- Chris Peterson
"I drive a cheap Honda Accord, but the Turbo Whistler makes it sound like I have a supercharger now!"
- Sara Dudash
FAKE TURBO WHISTLER INSTALLS IN SECONDS!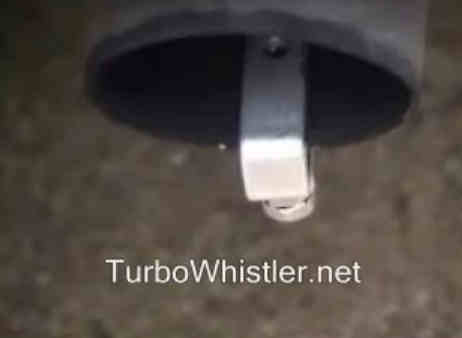 CLICK HERE FOR TURBO WHISTLER VIDEOS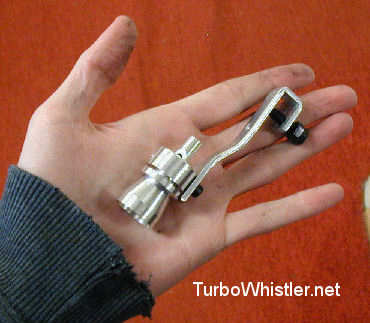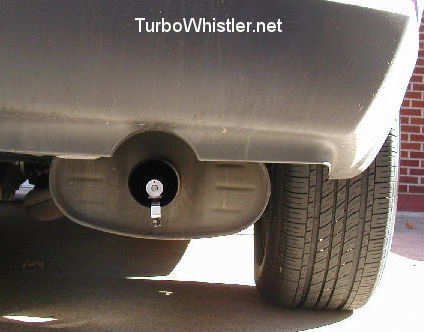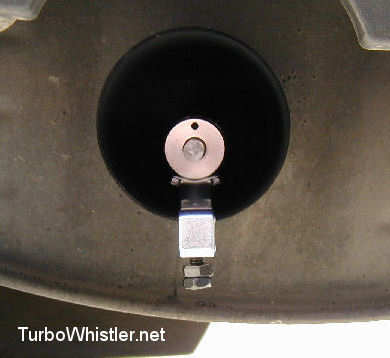 Fake Turbo Whistler installs in seconds! Turbo Whistle simply clamps to muffler exhaust pipe!
We also accept orders through PayPal below


All major credit cards and PayPal accepted
Your turbo whistler will be shipped same day ordered by USPS Mail with tracking number
Please allow around 3-5 days for delivery
Wholesale Orders - Link to Us - Video Contest - How to Install Turbo - Street Racing Videos - Drag Racing Videos - Sportbike Racing Videos - Drifting Videos - Burnout Videos - Car Makes Models - Car Clubs - Car Racing Videos - Auto Racing Videos - Formula 1 Racing Videos - Off Road Racing - Go Kart Racing - Car Crash Videos - NASCAR Racing - Muffler Exhaust Systems - How Turbo Works - Turbocharger Videos - Supercharger Videos - Exotic Cars - Dyno Videos - Demolition Derby - Indy Racing - Monster Trucks - Speedways - NASCAR Drivers - Concept Cars - Import Tuner Cars - Turbo Sound - How Turbochargers Work - How Superchargers Work - Car Shows - How Nitrous Oxide Works




Thanks for visiting the Sportbike page